GRITT CHALLENGE
Welcome to the GRITT Challenge. One of the cornerstones of GRITT watches is that we strive to offer one of the best values for your dollar. But we don't do this by cutting corners, we believe that just leads to boring mediocre watches that all look the same...instead we do this by offering the most features for your dollar, after all, the point of luxury is that you shouldn't have to compromise. And when you are paying this kind of money for a watch, shouldn't it come with ALL the popular features?
So here is our challenge...we dare you to find a single other watch in the world that offers all the standard features we do for the same MSRP. And we are putting our money where our mouth is with a $500 reward. And just to show our confidence, we'll even honor this discount up to 60 days after you buy a GRITT watch.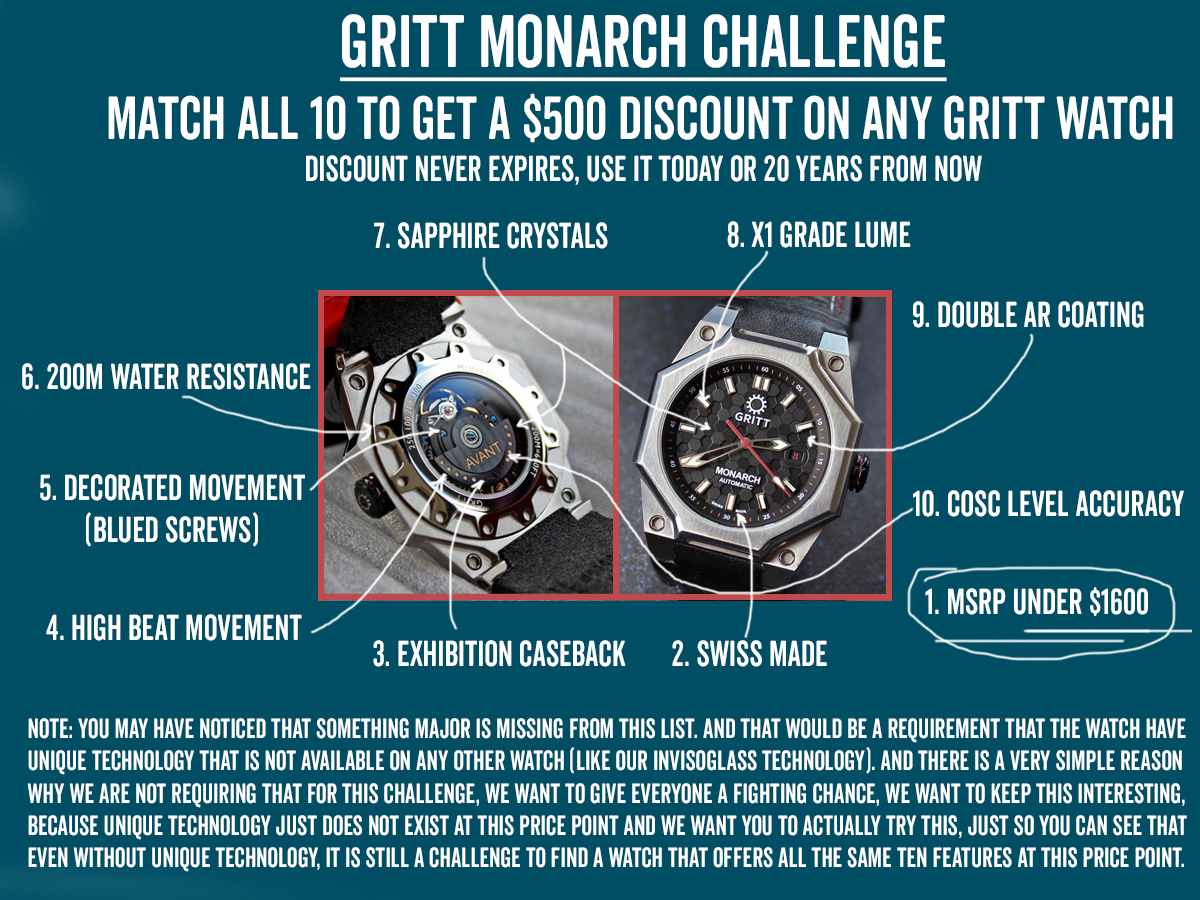 GRITT CHALLENGE GUIDELINES
To help you out, we wrote a simple guide so you can know what to look for in the other watch when doing this challenge.
1. MSRP UNDER $1,600 - the other watch needs to have MSRP at or below ours. So if the other watch has a MSRP above $1,600 its disqualified.
2. SWISS Made - Swiss labor costs are much higher than Chinese/Japanese/German alternatives...up to 7x higher for the same exact watch, this is due to higher salaries, better benefits and a higher standard of training in Switzerland. This is why there is just more prestige when the watch is Swiss Made. So the other watch needs to be Swiss Made too to offer the same level of quality. You'll know the other watch is Swiss by "Swiss Made" written on the dial or the caseback. So if the other watch doesn't have "Swiss Made" written on it, it's disqualified.
3. Exhibition Caseback - this is a very important feature, it shows you the movement so you can actually see it working. And of course there is an extra cost of needing to add a second crystal and having to put in some effort/money into decorating the movement. So if the other watch is missing such a popular feature and has a solid caseback, it's disqualified.
4. High-Beat Movement - the movement needs to be beating at 28,800 bph. This is important because it makes the seconds hand extra smooth and the watch more accurate. Cheap low beat movements are choppy and are one of the easiest ways to spot a cheap watch. You'll be able to tell that a watch has a high beat movement, because the brand will no doubt advertise that fact in the description either by calling it high beat or by mentioning 28,800bph since this is a massive selling point for watch enthusiasts. So if the other watch has a low beat movement, it's disqualified.
5. Decorated Movement - This varies by manufacturer design preference, so for this one we'll keep it extra simple, all we are asking is that the movement have blued screws, that's it. After all, this is the first thing that gets upgraded if a brand cares to improve the look of the movement and is the first sign of a quality product. So if a watch doesn't have blued screws, it's disqualified.
6. 200M Water Resistance - This is important because it costs extra money to make a watch water-resistant and its actually one of the most useful features on a watch. So if the other watch doesn't offer at least 200M (hint: 200M = 660ft = 20ATM), it's disqualified.
7. Sapphire Crystals - Sapphire Crystals are extra strong. This feature is easy to spot because pretty much every brand will specifically mention having paid for this extra cost. This is such a big deal that some brands will even list this feature by engraving it on the caseback. So if the other watch doesn't mention Sapphire, it's disqualified.
8. X1 Grade Lume - This is the best lume that money can buy, you'll be able to tell that this lume is on the other watch, because the brand will specifically spell it out, again due to how much more expensive this is than regular lume. Fun fact, this lume has a higher cost per gram than gold. So if there is no mention of X1 grade lume, the other watch is disqualified.
9. Double Anti-Reflective Coating - This is a very important feature and helps fight glare on your watch (obviously it won't be on the same level as our INVISOGLASS coating, but its still better than nothing). You'll be able to tell that the other watch has this because they'll no doubt list it as a feature due to how expensive it is. So if there is no mention of Double AR or 2xAR for the other watch, it's disqualified.
10. Watch Accuracy - accuracy is the hallmark of a luxury watch, and it costs money to regulate a watch. So the other watch needs to either advertise COSC certification or they must specifically spell out that they regulate their watch to this or better standard (-4/+6 seconds/day). If there is no mention of how accurate the other watch is, it means the other watch is a lot less accurate, so it's disqualified.
So these are the 10 features that we'd like you to match to earn the $500 discount on any current or future GRITT watch. Nothing too demanding, pretty standard stuff, you'd think those features would be offered on every single luxury watch...right? Well, we'll let you find that out for yourself.
But if you do manage to find one, fill out the form above and send us your submission. Trust us, we are very curious to see what you'll come up with.
Promotion Terms: Discount earned before purchase ($500USD) can be applied to any future GRITT watch purchase from www.grittwatches.com with no expiration date - discount earned up to 60 days after you make a purchase may be retroactively applied to your existing purchase as a refund. In other words, you can buy one of our watches and then spend 2 months trying to find a watch that has these 10 features. Promotion limited to one purchase per household.