THE GRITT DIFFERENCE
"The most glare-resistant watches in the world."
GRITT is an innovative luxury watch company that combines a truly unique design language and cutting-edge features with proprietary technology to create stunning time pieces. Our watches are best known for our breakthroughs with crystal clarity. Our INVISOGLASS® technology pushes the envelope and makes GRITT watches the most glare-resistant watches in the world. The result is visually stunning and gives our watches a truly unique presence on your wrist that you won't get with any other watch in the market.

Our main mission as a brand is to offer our customers the absolute best bang for your buck. But we don't do that by cutting corners, we do it by offering our customers the best available features that money can buy. This is why you won't find a single other new watch, that offers a more advanced design, a better level of finishing, a better level of movement decoration and more features at this price point.
GRITT MONARCH
"A watch unlike any other"
The GRITT Monarch is a 43mm automatic with a 12mm ultra slick profile that fits comfortably under a shirt cuff. The Launch Edition of the Monarch is limited to just 300 sets so you can wear your watch, knowing that you are wearing something truly unique on your wrist.
We believe details matter, which explains why this watch took more than two years to develop. We spared no expense when developing the Monarch and gave it a truly groundbreaking set of features and design elements not found anywhere else in our price range:

Unique Design - with so many watches looking identical these days, we felt that we needed something truly stunning to catch the eye for our first watch, something that makes this watch instantly identifiable on your wrist as a GRITT...a watch unlike any other. The design of the case is very advanced, it uses a combination of brushed, polished and satin surfaces that work together to give you a nice contrast at every angle. It also features our Phantom dial that uses multiple levels of shades of black so certain elements only show up at certain angles. On the back, you'll find our sculpted exhibition caseback that shows a 3D representation of our logo and lets you admire our decorated movement while also making it a breeze to remove the caseback. And on the side, you can see our screw down crown with its slip proof design for ease of operation. Finally, we pair the case with an integrated strap that hugs the case and lets us offer a wider strap on our watch.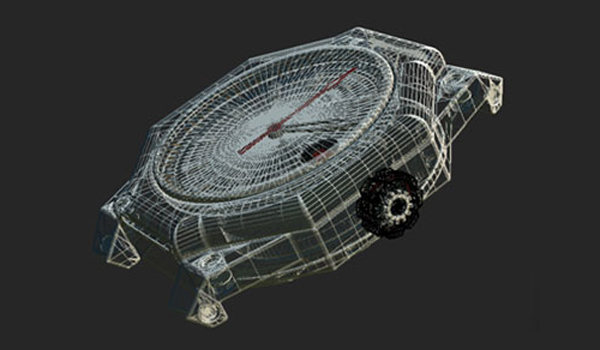 INVISOGLASS® Technology - this isn't like the anti-reflective coating you've seen on all the other watches. Our technology uses our own unique AR coating formula invented by GRITT that requires special ingredients and a proprietary application process for it to work. This technology lets our sapphire crystals achieve a truly invisible effect...at most angles you'll have to physically touch the glass to verify that the glass is still there. Even better, unlike other AR coatings, which tend to only work in direct sunlight, GRITT INVISOGLASS® also works in the less than perfect conditions. This is possible because INVISOGLASS® covers a much wider reflective spectrum, so there are a lot fewer angles that give off reflections and those few reflections are noticeably weaker compared to every other watch. Best of all, our AR coating is 7x stronger than the typical AR coating you'll find on most watches, which means you'll be a lot less likely to scratch it. This is truly a game changer and is the latest technological leap in anti-reflective technology and makes GRITT watches the most reflection proof watches in the world and if you ever bought a luxury watch you will recognize just how ground-breaking this is. Lots of luxury watches may look amazing online and may even look great under the extra bright display lighting at the boutique, but in the real world, on your wrist, most times a lot of them can look downright cheap because of all the glare. As you can see below, the difference becomes crystal clear in a head to head comparison with the industry standard double AR crystal:
Press play to see how INVISOGLASS® compares to industry standard Double AR coated crystal throughout the day
Customized Movement - The Monarch is powered by our Calibre V10 movement. The V10 is a heavily customized self-winding automatic movement that we've plated in black ruthenium (a rare element from the platinum group of the periodic table), it comes with heat treated blued screws and features an elaborately designed rotor with gold letters and a unique burgundy date wheel that uses a custom font that we developed specifically for our watches. This is a 26 Jewel high beat movement with 28,800 beats per hour and a 38 hour power reserve. It's been designed to be rock solid reliable for decades to come and any watchsmith in the world will be able to service it. The Launch Edition also features a custom inscribed rotor, the inscription of which translates to "FORWARD". And since we believe accuracy is the hallmark of a luxury timepiece, we make sure to regulate every watch to be within COSC Chronometer specs(-4/+6 seconds per day or better).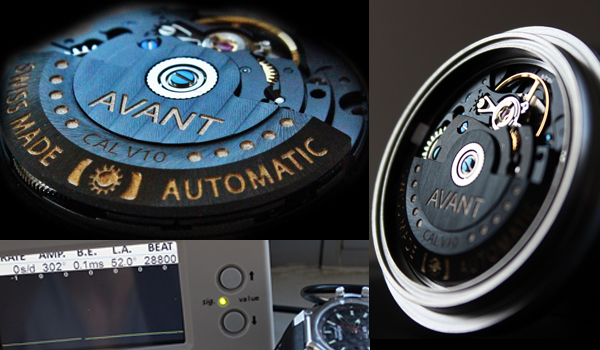 X1 Grade Lume - We don't just use regular lume. Our watches use the recently released top of the line Tritech Super Luminova X1 grade C3 lume. X1 grade lume glows like a torch and puts the regular lume you find on most luxury watches to shame (for comparison purposes, the X1 grade lume glows 60% brighter than the standard Superluminova lume after 2 hours). It's really the best lume that money can buy. The X1 grade lume is so effective that the legibility according to the ISO 3157 long term standard is extended by factor of 1.6. Additionally the X1 grade lume doesn't suffer from discoloration, so the lumed markers won't turn yellow with time. The color we selected for our lume is very special...it actually changes color depending on the conditions.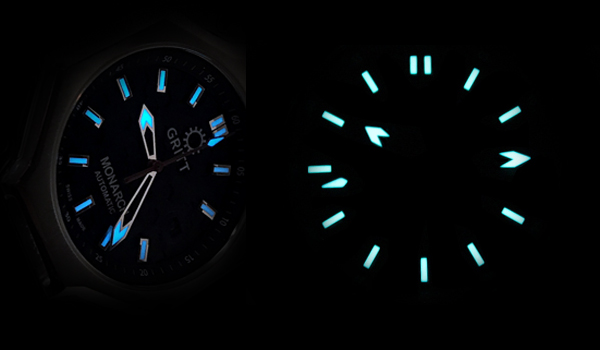 Dive Ready - You shouldn't need to worry about swimming with your watch, which is why we over-engineered the Monarch to be especially water resistant while keeping a thin profile. With 200 meters (660 feet) to play with, your Monarch outperforms most sport watches and can even match the dive rating of bulky dedicated dive watches. This means you can keep your watch on for most submergible activities without needing to ever leave it behind.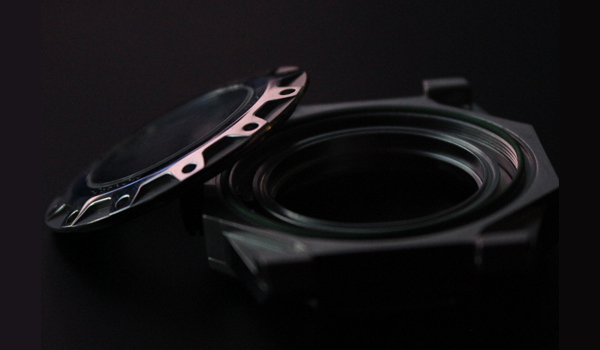 The technology behind the Monarch makes it a heavy hitter at this price point. Not only is it heavily specced(you won't find a single watch in the world that offers all of our features at this price point), but it also comes with a unique advanced design and unique technology not found in any other watch in the market. This makes the Monarch a must have for any watch collection.
SHIPPED WORLDWIDE
Note: the price is $3,200 for payments made via bank wire transfers
For your peace of mind we offer a 30-day return policy with NO restocking fees

Starting at just $3,400.00