ANNOUNCEMENT
February 10th, 2020

Effective today, we are dropping our prices.
The new pricing will be:
$1,700 with free worldwide shipping when paid via a credit card
and
$1,600 with free worldwide shipping when paid via a wire transfer
For the early adopters who paid the full $3,400 price, you'll be receiving a full refund for the difference and a little something extra as a reward. And for international buyers, we'll also be covering the extra customs costs that you overpaid. We simply could not do anything less for those of you who supported us from the very start.
So here is why this is happening
Essentially we are adjusting our distribution strategy. Instead of using Authorized Dealers, from now on we'll be switching our focus to online only. This means we no longer need to inflate our MSRP to include the dealer and distributor mark ups(which accounted for about 50% of the old price) and that means we can pass those savings to you without affecting our margins. For those of you who absolutely must try on a watch in person, we'll continue offering a way to do so in New York City.
And yes, the watch will stay the same, it'll still come with our INVISOGLASS technology and all the other features and we won't be cutting any corners in the future editions of the Monarch, there is just no need to do that since our profit margins aren't changing. As far as we see it, this is a win/win, you get a luxury watch that was originally designed to compete at the $3,400 price point for $1,600-$1,700 and we get higher sales volume due to much higher demand and a bigger market share since the new price makes our watch a truly phenomenal deal.
Let's be honest, at the new MSRP, you will be hard pressed to find a watch that comes even remotely close to the Monarch. This range is mostly filled with boring unoriginal watch designs, with mediocre finishing, powered by generic movements and no new tech, so we expect the Monarch to do quite well in this price range since its going to be that much better than the competition.
Because of this switch we are also improving our return policy. To give you the extra peace of mind when buying online, we are increasing our return period to 30 days with NO restocking fees. Frankly it's just wrong to charge restocking fees when selling a high priced item sight unseen and unlike brands that do that, we want you to know that we actually stand by our watches.
So that's the gist of it, the watch stays the same, prices go down by half, the return policy gets improved and everybody wins. If anyone has any questions, please use the contact form to get in touch.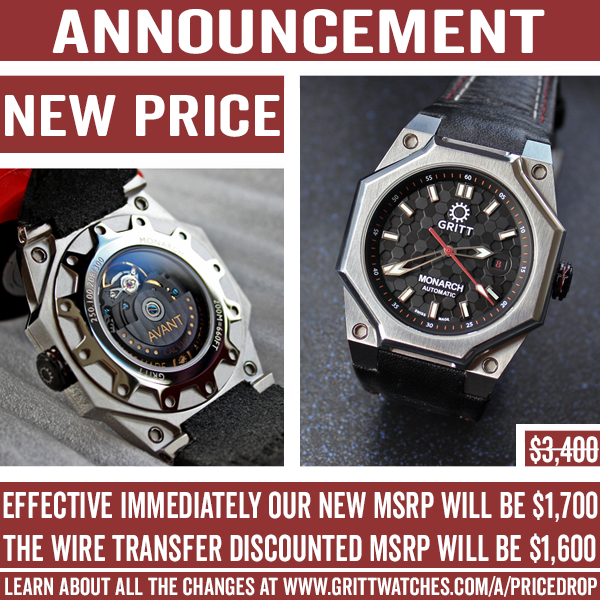 Help us spread the word by sharing this image/page:
https://grittwatches.com/a/02.10.2020.Price.Drop/grittpricedrop.png